Turn your passion into a thriving business.
What is CO.STARTERS?
CO.STARTERS, presented by Opportunity Lynchburg, is a nine-week program that equips aspiring entrepreneurs with the insights, relationships and tools needed to turn business ideas into action and turn a passion into a sustainable and thriving business. This nationally-based program has been proven to jump start entrepreneurial ideas and provide a foundation for success and Opportunity Lynchburg is bringing the program to the Lynchburg community.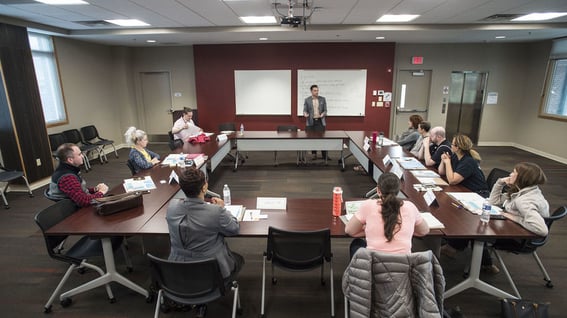 Who is it for?
If you're an aspiring entrepreneur, or a seasoned professional looking to launch a new product or service, CO.STARTERS can give you the support you need to get started. To join, you must first have an idea you're ready, willing and excited to share and pursue. You should also have a willingness to study, shape and fine-tune that idea in an environment that's supportive and collaborative. If you're serious about turning your passion into a sustainable business, CO.STARTERS is a smart next-step. Submit your application by filling out the electronic application below.
Groups of 10-16 entrepreneurs meet together for nine weeks, meeting one evening a week for three hours, led by a facilitator. CO.STARTERS facilitators are experienced business owners from the community who guide participants through the program by asking the right questions, drawing on the knowlege in the room and using available resources and connections in the community to point participants in the right direction. In addition to exploring different topics each week, guest speakers are also brought in weekly to enrich the conversation and help participants learn from the exprience of others in the community. CO.STARTERS will help you identify why and how your business will work, and will then talk with customers to validate your ideas.This approach enables you to rapidly uncover flaws in your concept and find viable models more quickly. You'll leave the program with a deeper understanding of how to create a sustainable business, articulate your model and repeat the process with your next great idea.
The cost of CO.STARTERS is $195 for City of Lynchburg residents and $245 for non-residents. Participants can pay the first night of class or flexible payment plans can be arranged (no cash or check accepted). The program costs include:
- 1 on 1 support from a seasoned entrepreneur
- 9 weeks of classroom instruction
- Mentorship and class speakers
- Opportunity to hone your business pitch
- Service hours from local providers
A $100 non-refundable fee toward the full program cost is charged when you are accepted into the program.
During CO.STARTERS, participants develop and fine-tune their ideas, critically examining every part and determining next steps through real-time feedback from people in the community. Over the nine weeks, we'll cover the following topics:
Week 1: Knowing Yourself (Assumptions, Working Styles, Team Building, Obstacles)
Week 2: Knowing Your Customer (Problem, Solution, Benefit, Competition, Advantage, Customer)
Week 3: Getting the Relationship Right (Marketing & Message; Getting, Keeping & Growing Customers)
Week 4: Building the Model to Scale (Starting Small, Distribution, Revenue, Typical Sale, Price)
Week 5: Strengthening Your Structure (Business Structures, Licenses, IP, Hiring)
Week 6: Discovering the Bottom Line (Startup & Ongoing Needs, Fixed & Variable Costs, Break-Even Point)
Week 7: Accounting for Growth (Break-Even Point, Sales Projections, Cash Flow, Accounting)
Week 8: Planning for the Future (Raising Capital, Growth Plans, Goal Setting, Pitch Prep)
Week 9: Pitch Night/Sharing Your Story
Logistics:
Classes take place once a week for nine weeks.
The cost of CO.STARTERS is $195 for City of Lynchburg residents and $245 for non-residents.
A non-refundable $100 fee is due when you are accepted into the program to hold your place. Flexible payment plans may be negotiated.
Only credit or debit cards are accepted, no cash or check.
Must be 18 years or older to register for the course.
The deadline to apply for the fall cohort is June 30, 2018.
CO.STARTERS is supported by the Lynchburg Economic Development Authority,




If you have any trouble with the form, please email Anna Bentson anna.bentson@lynchburgva.gov.